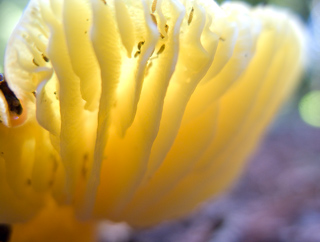 This is a great time of year to take photographs of mushrooms; at least, it's a good time here along the northern California coast. The rainy season is well underway and January through March provides good opportunities for taking exposures of the picturesque fungi. My favorite spots are in the old growth redwood forests of Butano and Big Basin but anyplace will do.
I hear you say "All good and fine for you, mister fancypants johnkane.com with big expensive macro gear. But I only have a tiny digital camera."
That's OK! It's probably your best choice of gear, as it turns out.
When shooting mushrooms, I routinely lug out my digital slr macro gear, including a massive macro lens and a dedicated close-up "twin light" (not to mention the tripod)… only to have the best exposures of the day come from my compact digital. Not always, but often. I won't get into the physics of the optics, but basically small camera with their small sensors and small lenses make inherently good macro (close-up) cameras. You can shoot up close, and due to the the small sensor size you can shoot hand-held and get away with it. Getting "under the hood" on even large mushrooms can challenge dslr's and their bulky lenses and minimum working distances; there are a lot of places you just can't go with a big rig! Yet, a tiny digital camera can scoot right under. On both my old Nikon Coolpix 995 and my new Canon G9, I can shoot moderately wide and focus under one inch. Handheld. You probably can, too!
Not every point-and-shoot digital camera can shoot in macro mode, but many do. Macro mode is commonly a flower icon on a dial or menu; check your camera to see if shoots macro. Once you are in macro mode, zoom a bit in from wide; shooting a bit wide helps compensate for any camera shake, while also providing an interesting perspective. Consider shooting in Aperture mode if your camera offers that, and open up for maximum bokeh (soft out of focus background). Turn down your flash, or better yet, turn it off! Mushrooms look beautiful when back lit and a flash overwhelms the soft light that filters through a mushroom's cap. The above photo was taken with my small G9; the little camera is quite in its element close-up.
Being down near the ground, a screen that tilts is a bonus; however, it is not essential. Most screens show enough detail off axis so that you can compose your shot.
A focusing tip in macro mode is to let auto focus achieve focus and then partially press the shutter–this locks auto focus. Now, manually move the camera slightly in or out, watching the screen for exact focus. When you achieve the focus you want, hold the camera position and squeeze off the shot. In fact, hold at this distance and squeeze off a few! Any slight movement in your hand will provide subtle variety; using this technique one of your shots may achieve perfect focus, through sheer luck.
Another technique is to put the camera in contact with the ground, on a corner or edge. It's natural when shooting down low, and the ground becomes a poor man's tripod.
Remember, when you're shooting macro you don't have to think big. Especially with mushrooms, small inexpensive digital cameras can be just the ticket.